Norley stone keeps alive story of
gamekeeper's brutal murder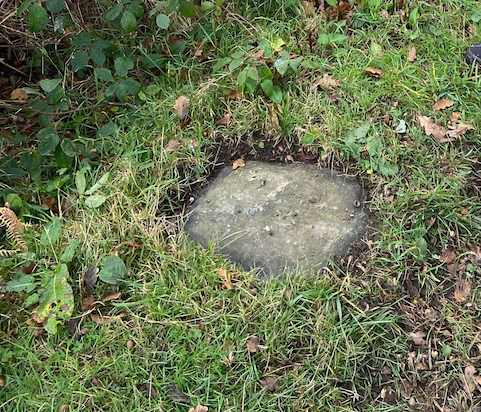 Camomile Lane on the rural border of Cuddington and Norley has changed little over the centuries. Far from the madding crowd it is still a quiet byway generally known only to a few locals and walkers and most of these barely glance at a curious stone embedded in the footpath.
There isn't an inscription but what it marks is the spot of a brutal murder and a fascinating tale that has escaped the attention of even the best of Cheshire crime writers.
In 1843 the High Sheriff of Cheshire, George Wilbraham, of Delamere House, owned much of the land hereabouts. His gamekeeper at this time was forty years old Matthias Bailey who lived with his wife, Martha, and their four young children in an estate cottage in the nearby hamlet of Ruloe.
Amongst Matthias's many duties he was responsible for protecting Wilbraham's game preserves and, undoubtedly, poaching was something of a nightmare. The problem clearly seems to have been at its height that summer and so, determined to catch the culprits red-handed, Matthias left his bed at four o'clock on the morning of Friday July 28, 1843.
A few hours later in Camomile Lane, less than half a mile from Delamere House, his blood-soaked body was found by a local woman, Mary Yearsley. He had been shot in the back of his neck and on the following Monday, July 31, he was laid to rest in Weaverham graveyard. Parish records state simply: "Murdered gamekeeper".
Naturally, a hue and cry followed and a hastily arranged inquest took place at Crowton's Fox and Hounds (Hare and Hounds) public house where a jury returned a verdict of "Wilful Murder against some person or persons unknown". Immediately George Wilbraham offered a reward and the coroner called for assistance from the district's special high constable, Mr Frederick Baker, who initially apprehended and released five suspects. Then a notorious Norley poacher, Samuel Maddocks, a 53-year-old tailor, was arrested in Manchester and his brother, John Maddocks, was also taken into custody.
Prima facie evidence, heard at a special hearing convened at the Tiger's Head, Norley, was overwhelming against the pair. One witness, James Rowland, who was Wilbraham's shepherd, stated he had attended the murder scene: "I found marks of a man having laid down near the hedge and a quantity of shot on the ground. I then searched some other fields and saw John Maddocks and Samuel Maddocks in their potato field. Bailey's wife came and the two Maddocks must have heard her screaming, but they never went near the body. In the evening I was searching for Bailey's gun when I saw Samuel Maddocks crouching under a hedge."
Another witness, Thomas Pickering, had been herding cattle in Moss Lane at about four o'clock on the morning of the murder when he saw two men running, one of them, whose voice he recognized as that of Matthias Bailey, called out "It's you John". The next thing he heard was the report of a gun. The second man, he hesitatingly believed, was John Maddocks. Pickering also claimed to have met Samuel Maddocks shortly afterwards. "He was wet and dirty," he testified.
The magistrates required only a few minutes to commit the Maddocks for trial at the next Chester Assizes and for over four months they were incarcerated in Chester Castle Gaol.
The Assizes trial, on January 4, 1844, took place in Chester's magnificent Shire Hall and opened with an unexpected development. The case against John Maddocks was dropped and his elder brother, Samuel, now stood alone in the dock. If found guilty he faced public execution.
Seventeen witnesses were called, the most astonishing of them all Joseph Clark, a labourer who worked for Mr Woodhouse at Norley Hall:
"I got up at about half past three... I met the deceased and I had leave from him to get turnips from Mr Wilbraham's field which runs alongside Camomile Lane. It was nearly four o'clock and full light. I saw Samuel Maddocks coming down the lane and he took over the hedge into the turnip field. I then saw Matthias Bailey running down the lane. As he ran past, Samuel Maddocks rose up and clapped the gun to his shoulder and shot him. The prisoner was right smack aface me and as soon as he saw me he took over the hedge; no words passed between us."
Joseph Clark's testimony must have seemed manna from heaven to the prosecuting Attorney General and the rope was beginning to tighten around Samuel Maddocks' neck.
That was until defence counsel got to work and by conclusion of cross-examination Clark might himself have been guilty. At the very least his integrity was called into question for if he wasn't the murderer then he was certainly a thief who had been stealing turnips.
And, crucially, why did he wait months before volunteering his extraordinary version of events? Was he covering his own tracks, or eyeing the reward put up by Mr Wilbraham? "I should think it belongs to me by good right; it belongs to me by telling the truth," Clark told the court.
Worse, perhaps, it was revealed that before making his statement he had actually gone out drinking with the local constable. Too many doubts lingered and, in the end, the jury took less than half an hour to acquit Samuel Maddocks.
Matthias Bailey's killer was never tried and convicted and his family was to suffer even more tragedy. Forced to vacate the tied cottage in Ruloe, Martha took the children to live with her parents in Wettenhall. In August 1844, on the first anniversary of Matthias's murder, she died suddenly of what local newspapers described as a "broken heart". Aged just thirty-seven she was buried next to her husband in Weaverham graveyard. Of the children, records show one of the sons, Matthias jnr, went on to be a butcher in Prescot, Lancashire. His son, also Matthias, then did really well for himself and became a ship's surgeon with the White Star Line.
As to the stone, this remains something of a mystery in itself. Although possibly the remnant of an ancient Frodsham/Weaverham parish boundary marker, local legend suggests it was purposely placed in Camomile Lane over 170 years ago as a memorial to where Gamekeeper Bailey fell and, to this day, members of the local Chrimes and Barclay families diligently keep the surrounding vegetation trim and tidy to perpetuate the story of a shocking murder in their midst.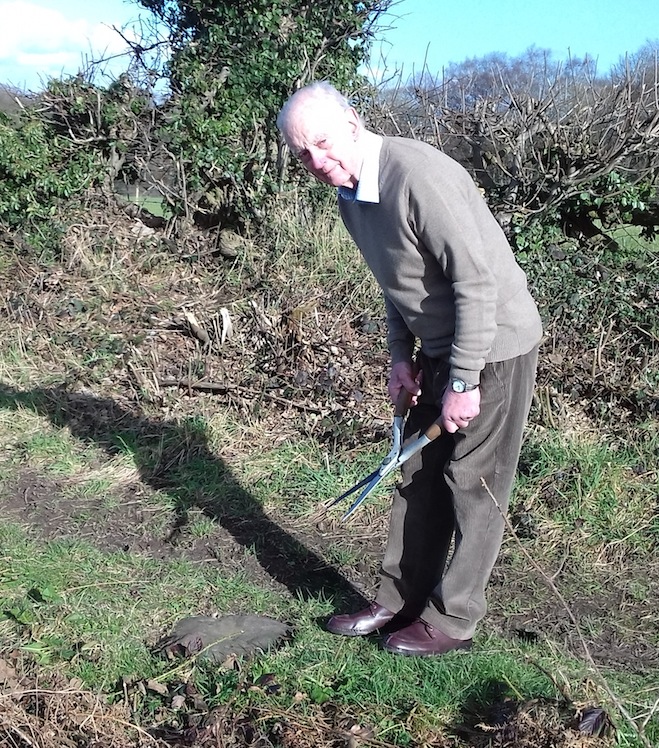 Eric Chrimes gives the stone a trim.




RETURN TO HOME PAGE